"Tell me a fact and I'll learn. Tell me the truth and I'll believe. But tell me a story and it will live in my heart forever." Indian Proverb
People have always been fascinated by stories. For millennia, storytellers have used them successfully to influence, teach and inspire us. One of the reasons stories are so powerful is that they turn information into emotions. That's why we remember information better when it's communicated through a story and why stories motivate us to take action. When you want to really engage a target group, storytelling is the most powerful tool in your toolbox.
When it comes to academic recruitment, storytelling is a way to reach out to desirable potential candidates who aren't looking at your job ads. Sharing a story with them is a way to capture their interest and increase their awareness of your institution as an employer.
Here's why stories work:
Get on their radar

Not all candidates are active job seekers. Studies indicate that up to 70% of all job seekers are passive, meaning they're not actively seeking out new opportunities. Traditional job advertising won't reach them, but exciting stories will. A first-hand account from an employee at your institution is a way to get on the radar of candidates who don't visit job boards.
Download your free talent attraction guide
Download our free guide to learn how to incorporate storytelling and content marketing into your talent attraction strategy.
Download now
Stories also allow you to reach a group we call future candidates. These are candidates that aren't able to apply to your institution right now even if they saw an appealing vacancy, such as first year PhD students or new tenure-track faculty. Using stories to reach out to future candidates now will save you time and effort down the line. Plant a seed of interest by sharing stories about why your university is worth considering and reap the benefits later when these candidates are finally able to apply.
Show, don't tell

Do you want to receive more applications from women or international researchers? Sharing the story of a successful female or international researcher who has been supported by your institution is far more inspiring to potential candidates than a bullet point saying that your university values diversity. A story allows you to show candidates, rather than tell them how you foster diversity. It will also help them recognize and remember you when they come across your job postings.
Help the candidates see themselves in the role

A job ad tells the candidates what they need to know about the role, but it doesn't offer the same personal or emotional connection that a story would. A story gives a candidate a more nuanced view, beyond the bullet points, about what it's like to work in a particular lab or what the culture of a certain department is like. If candidates can start to picture themselves working at your institution, they're more likely to seriously consider your job ads.
Now that you know why storytelling is a good tool for academic talent attraction, download our talent attraction guide to learn more about how to use storytelling in different phases of your recruitment journey. Next week we'll cover when to use storytelling. Subscribe to Recruiter Advice so you don't miss it!
Download your free talent attraction guide
Storytelling is when you use a narrative to communicate your message and it's a powerful way to breathe life into your talent attraction strategy. It creates an emotional response in your target audience and motivates them to take action towards your organization.
When it comes to academic talent attraction, storytelling is a way to engage potential candidates and start building a relationship with them before they apply to your institution. But what makes a good story? A good story is:
Educational
From parables to podcasts, storytelling helps us understand the world in new ways. That's because stories make abstract concepts more concrete through examples and context. When you want to influence your audience to start thinking in a different way, use storytelling.
Emotional
Sharing stories is one of the ways that people connect with each other and form emotional bonds. Learning someone's story makes you feel closer to them and creates a sense of intimacy. Using storytelling in your content marketing will help potential candidates form a deeper connection with your institution.
Download your free talent attraction guide
Download our free guide to learn how to incorporate storytelling and content marketing into your talent attraction strategy.
Download now
Motivational
A heart-wrenching story from a disaster victim can drive you to donate to relief efforts just like a story about a company's questionable business practices can dissuade you from buying from them. Because stories create such an emotional connection with their readers, they are powerful motivational tools for marketers.
Entertaining
At the heart of any good TV show, podcast, movie, book, or song is a compelling story. Using storytelling in your content marketing helps entertain potential candidates and hold their attention while you deliver your key messages.
Genuine
Good content marketing feels so real that the audience doesn't notice (or doesn't care) that it's an ad. We find it more trustworthy, for example, when a customer tells us why they love a product than when the manufacturer tells us why their product is great. Storytelling adds a word-of-mouth feel to your marketing efforts that helps build trust with potential candidates.
By using storytelling in your content marketing, your institution can stand out from your competitors and position itself as an attractive employer. To learn how to incorporate storytelling and content marketing into your talent attraction strategy, download our talent attraction guide.

Wondering why and when you should use storytelling in your content marketing? Make sure you're subscribed to Recruiter Advice so you don't miss our upcoming posts on this topic.
Download your free talent attraction guide
The Serra Húnter Programme is a new academic staffing model created by the Government of Catalonia and the seven public universities of Catalonia to promote the hiring of highly qualified faculty members with academic records meeting high-level international standards. Twice a year, the programme releases a call for applications for full professor, associate professor/senior lecturer, tenure-eligible full professor and tenure-eligible lecturer positions. Candidates must first be accredited by AQU Catalunya before moving on to the formal application at the recruiting university. The programme's ultimate goal is to consolidate Catalonia as the knowledge hub of Southern Europe.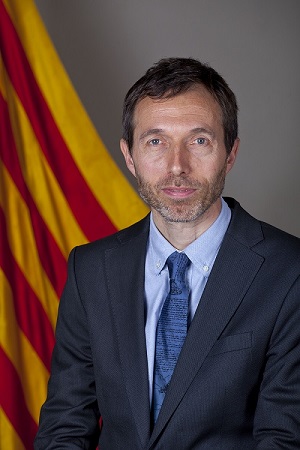 Academic Positions spoke to Professor Josep Domingo-Ferrer, the academic director of the Serra Húnter Programme to learn more about why this new staffing model has been successful for Catalonia. The interview has been edited for length and clarity.
AP: How was the decision made to take this centralized approach to academic hiring?
JD-F: The Serra Húnter programme was initially created in 2003 to encourage the public universities in Catalonia to offer faculty positions to candidates accredited by the Catalan University Quality Assurance Agency (AQU Catalunya), which was established in 2001. Then in 2013, we at the Catalan government felt that it was time for another step forward and so a new shape was established for the Serra Húnter programme that set some more constraints for the calls: First, the available positions should have broad academic and research profiles so that they can appeal to the greatest number of potential applicants. Second, the vacancies should be disseminated internationally using several portals. Third, the hiring committees should only have one member from the university offering the position with the remaining members appointed 50% by the university and 50% by the Serra Húnter programme.
And as a result of this programme, we have achieved a much higher level of competitiveness. Now each position in the call receives 20 applications on average and half of them are international. This may not sound too high for some standards, but I can assure you that it is much higher than what we used to have. And from quantity, you get quality in the end. For us it is very important to get a high number of applicants.
AP: And why do you think this approach has been so successful?
JD-F: There is one part of the story that I haven't told you yet, and that is that the government directly subsidises 50% of the salary of positions offered through the Serra Húnter programme. That is an incentive for universities to go through this procedure, which takes a bit longer due to the international advertising and accreditation, but the fact that we subsidise 50% makes it more attractive for universities and applicants.
AP: Since the programme started in its current form, how many tenure eligible lecturers, associate professors, and full professors have been hired by the programme?
JD-F: The programme has offered in total 720 positions since 2013. One quarter of all new academic positions opened each year by the seven Catalan public universities have gone through this programme.
AP: What do you think other universities or other countries can learn from this staffing model?
JD-F: The Serra Hunter programme was created in the context of the Catalonian legal framework. We had this tradition of narrow research profiles and very restricted dissemination of vacant positions which we had to fix. If there is anything that can be generalised, it is perhaps the idea of advertising for a position with a broad research profile. And also trying to avoid, by all possible means, any conflict of interest between the hiring committee members and the applicants. This is something we really focus on and we do it for pragmatic reasons. Other countries or other universities may not have these problems, but we needed a sort of shock therapy. And this was a way to do it. 
Deciding which postdoc position to apply for is an important decision that will affect the candidate's future career trajectory. So how do applicants choose where to apply? While every candidate has slightly different priorities, there are some common elements that candidates give more weight to than others. Here are the five essential things candidates are looking for reading your postdoc ad:

The supervisor

When it comes to choosing a postdoc position, candidates put a lot of focus on finding a suitable supervisor. The personality match between supervisor and postdoc is essential, but it's hard for candidates to know from a job ad alone if you will be the right supervisor for them. However, you can take steps to let candidates know more about who you are as a scientist and supervisor in the ad. Include a brief biography including information like any teaching or mentoring awards you've won.
The lab
Along with the supervisor, the lab also factors heavily into a candidate's decision to apply for a postdoc position. While many supervisors wait until the interview to address this, you can get a head start by giving a brief description of your lab in the advert. How long has it been around? What equipment do you have? Who are some of you key collaborators? How many members/nationalities are represented in your lab? What is the general lab personality?
Scientific freedom
A postdoc position is how young scientists learn to become a PI. A position that gives them autonomy helps them make the transition from trainee to professor. Candidates are therefore highly interested in knowing how much control they will have over their research and how much input they will have in determining the line of inquiry. You should communicate this in the project description section of the advert, as well as the profile section.
Download your free postdoc advert toolkit
Get your free postdoc advert toolkit with our top tips for writing and sharing a postdoc advert that will make candidates excited to apply.
Download now
Funding
How is the position funded and for how long? This is crucial information for potential candidates. Be clear about what the position pays, the duration of the position, and if there's a possibility to extend the postdoc. You should also mention if there are other funding opportunities available at the university or grant application support services. This kind of detailed funding information can help your postdoc offer stand out and attract more potential applicants.
Professional development opportunities
Postdocs will need to improve their scientific, technical, and professional skills in order to transition to a PI position. Candidates look for positions where they will have the best opportunity to develop these skills. If your university offers professional development training such as public speaking workshops, career path preparation, or networking events, it's a good idea to mention this in your advert.
These are the five key things that candidates look for when reading a postdoc ad to determine if they're a good match for your position. While your position won't be the right fit for every potential candidate, addressing these five points in your ad will help generate interest among the best-suited candidates. To make sure the right candidates know your postdoc position is exactly what they're looking for, you have to tell them. Now you know how to write a postdoc advert that includes everything candidates are looking for, download our postdoc advert toolkit for more tips and recommendations for a successful recruitment. Make sure you're subscribed to Recruiter Advice so you don't miss our upcoming posts about storytelling and talent attraction.
Download your free postdoc advert toolkit